Custom Italian Kitchen Cabinets
New York City
Muretti is a high-end Italian cabinet shop that designs, builds, and installs custom cabinets and built-ins throughout New York City and surrounding areas. Specializing in the finest materials and staying on top of the latest trends, we manufacture the highest quality custom-made discount kitchen cabinets perfectly built to fit your unique home or commercial space. Visit our New York kitchen showroom or call Muretti today for a free consultation on your custom kitchen cabinets.
modern
classic
contemporary

kitchen catalog
Completely Custom Kitchen Cabinets
It doesn't matter if you only have a small space for your new kitchen design. Perhaps you're planning a contemporary luxury kitchen layout on a grand scale. You still need kitchen designers who listen to your concepts and respond with just the right remodeling ideas for your review. New York City-based Muretti is a custom-design kitchen and bath firm with a full line of Italian-inspired custom designs. You'll love the look your new kitchen takes on, melding into your lifestyle and tastes. Instead of visiting lots of kitchen cabinet stores in NYC, call the Muretti team today or visit the kitchen showroom in Manhattan or Queens for a personal tour.
How Do I Start a Kitchen Remodeling Project?
Because a kitchen remodel is a major undertaking, seek out kitchen ideas and styles wherever you can find them, including Muretti' kitchen showroom. Look for designs and layouts that best reflect your personality and lifestyle. Trends change quickly, so find examples that resonate with you. Even small details can contribute to your new kitchen.
Muretti is a New York City-based kitchen design business inspired by modern Italian ideas and craftsmanship. While working directly with you, they supply basic small, medium and large kitchen designs that can accommodate future changes. Keep up with current kitchen color trends while preparing for additions.
What Kinds of Kitchens Are in Style?
Consider for example some basic modern kitchen colors that adapt easily to changing tastes:
The colors you choose for your kitchen must match the style you select. A traditional kitchen that has a black palette may not work, although an industrial kitchen that revels in a white foundation may be perfect. It all depends on your tastes, the effect you want and the space available.
What Other Kitchen Design Decisions Must I Make?
After you and your best Italian kitchen designers decide on the layout and basic color scheme of your new kitchen, consider your budget next. In fact, Muretti offers the best custom kitchen cabinets prices in NYC.
Ask yourself:
How do I and my family use the kitchen space?
How often do I think I'll want to make changes?
What types of appliances do I prefer?
Which kitchen concepts match my lifestyle?
What kind of wiring is needed to accommodate my kitchen technology?
In addition to options for your countertops, one of the highlights and cornerstones of new kitchen designs is mix of kitchen wall cabinets and free-standing custom cabinets. You'll be glad you chose Muretti, because these custom kitchen cabinetmakers bring your dreams to life.
What Cabinet Choices Do I Have?
You're only limited by the space, as your imagination can take you anywhere with the design.
For example, consider:
Wood kitchen cabinets. They're durable, eco-friendly kitchen trends that easily transform with paint or other finishes.
Metal kitchen cabinets. They're ideal for industrial-looking kitchens and contemporary styles. They match chrome appliances nicely.
Glass kitchen cabinets. They open up small spaces and provide places to show off your beautiful, unique dinnerware and serving pieces.
Laminate kitchen cabinets. offer a wide range of options for the more budget-conscious who want quality cabinet kitchen doors that reflect style and taste.
High gloss kitchen cabinets. They represent popular kitchen trends for high-tech kitchens with complementary matte wall finishes and stainless appliances.
Experience Bespoke Custom Kitchen Cabinets Near Me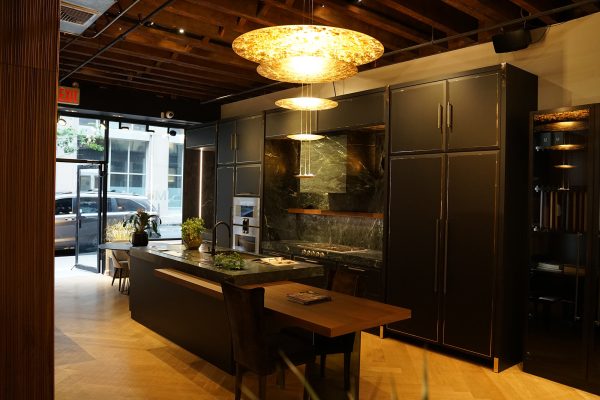 When seeking custom kitchen cabinets to tailor your living spaces to their unique preferences and needs, choosing a qualified specialist for this task is crucial. They bring expertise and precision to the design and installation process. A skilled professional can understand your vision, offer valuable insights, and navigate challenges to create a bespoke solution. This ensures that the kitchen cabinets not only meet but exceed expectations, resulting in a beautiful and functional kitchen that reflects your individual style and enhances the overall value of the home.
How to Discover the Perfect Custom Kitchen Cabinets Near You:
Word of Mouth: Consult friends, family, and neighbors who have recently remodeled their kitchens. Personal recommendations provide insights into a cabinet shop's quality, service, and pricing.
Online Search: Use the phrase "custom kitchen cabinets near me" or "european kitchen cabinets near me" to search online. Read reviews and compare prices to gauge each shop's reputation and offerings.
Showroom Visits: Once you've shortlisted potential shops, visit their showrooms to experience the quality firsthand, meet with designers, and assess overall customer service.
Why Muretti for Your Custom Kitchen Cabinets?
Tailored Precision: Our cabinets are meticulously designed to fit your kitchen's unique measurements, ensuring optimal space utilization and functionality.
Craftsmanship Excellence: Our experienced team takes pride in delivering superior craftsmanship, ensuring every aspect of your kitchen design reflects the finest quality.
Individualized Designs: Understanding that every home is unique, our designs resonate with your preferences while capturing the essence of Italian charm.
Premium Materials: We use only the highest quality woods and materials, ensuring durability and a premium finish that stands the test of time.
End-to-End Solutions: From conceptualization to installation, we provide a comprehensive solution for your custom kitchen needs.
Located in New York, NY, we're just a stone's throw away from making your custom kitchen dream a reality. Visit our showroom, nestled in the heart of New York City, or contact us to schedule a personalized tour today!
In the heart of New York City, where every space tells a story, your kitchen must exude functionality and personalized style. Custom kitchen cabinets can transform your culinary area into a true reflection of your taste and lifestyle. Dive into the world of bespoke design with our NYC custom kitchen cabinets and create a space as unique as the city itself. Contact Muretti today to begin the process of creating the custom kitchen design of your dreams. There is no kitchen project too small or too large. And the results are always better than you expected.